Ashley Combe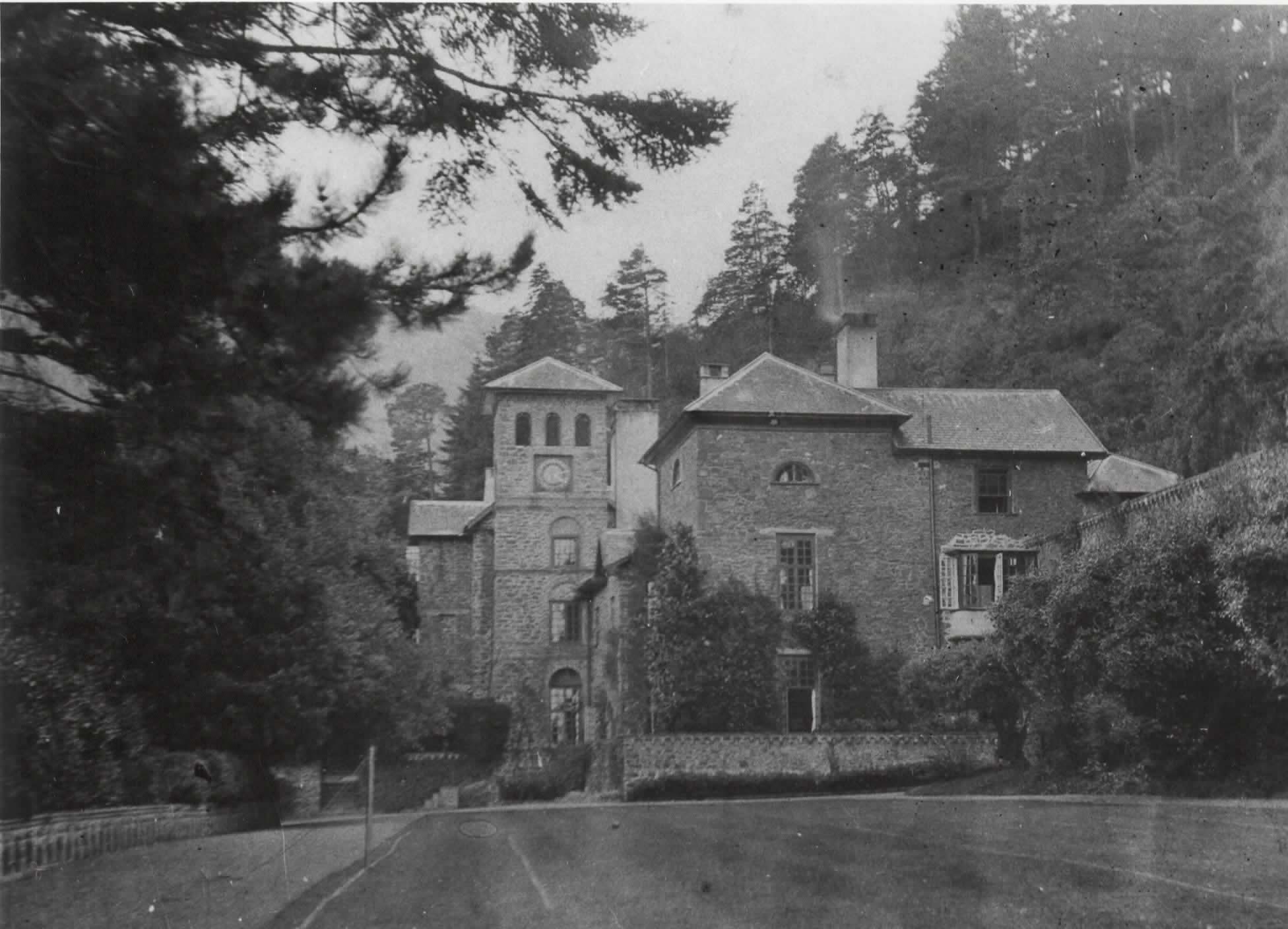 The historic heart of a previously large estate is still at the centre of the family's link with Exmoor. Its fascinating history includes eccentric owners, extravagant architecture, literature and ground breaking scientific endeavour.

We are grateful to Will Stone for allowing us to share his evocative article, first published by The London Magazine in the February/March 2020 edition:
Following the south west coast path to Culbone at Exmoor's edge, the observant might note one thickly wooded combe where the tree crowns are in striking contrast to the dominant native oak and ash. Here, soaring outsize pines, firs and other exotic foreigners create different shades, patterns and textures. Halfway up this hill on a now overgrown escarpment once stood Ashley Combe, an opulent Italianate style mansion, which enjoyed unimpeded breath-taking views across the Bristol Channel to the Welsh coast.

In 1835 the house was extended and improved by new owner and engineer Lord William King, (later the First Earl of Lovelace) as a mansion retreat for his new wife, Ada Byron, gifted mathematician and daughter of the celebrated poet. At her beloved rural retreat of 'Ashley', where romantically envisaged landscaped gardens descended in terraces down to the sea, Ada strolled with polymath Charles Babbage along the so called 'Philosopher's Walk', the two discussing properties of the latter's 'Difference Engine', distant ancestor of the computer.
Boosted by Ada's fortune, King planted trees in their thousands; Canadian and Scots pine, cypress, arbutus, bay, copper beech, pinactus, cedar... Eccentricity and whimsy became the hallmark of Ashley Combe's terrain, where a penchant for medieval fortification rubbed shoulders with the Neo-Romanesque. What seemed a recipe for architectural and artistic suicide proved the contrary, for the landscape was receptive and seemingly incongruous elements kindled a unique aura. Ada was captivated by her husband's plans, 'Your drawings of Ashley Combe excite my curiosity about the bastions and battlements. You must have fancied yourself a feudal Lord...' To the rear of the mansion King employed the natural rock face to anchor imposing neo-Romanesque arcades and galleries.

The Lovelace estate was an encomium to fantasy and reverie, to invention, held together by an intricate labyrinth of pathways and drives, most alluringly serpentine and descending in spirals around the hill. Ornamental towers, archways, bridges and follies proliferated and selected vantage points for sea-gazing were topped with a crenelated battlement. King even provided his wife with a stone bathing cottage down on the rocky shore, which Ada could privately access by secret paths and steps cut into the cliff. Most audaciously King devised a system of tunnels and cuttings allowing common tradesmen to make deliveries without they or their carts ever being seen by the privileged incumbents. Against the odds a few of the shorter tunnels remain, absorbed into the south west path. Entranced hikers navigate these eerie sloping passages their tread soundless upon dense rust-coloured carpets of dead leaves.
Since the house was demolished as a dilapidated liability in 1972, nature has determinedly reclaimed the site as if to veil its history. Yet time has assumed a dual role, as both agent of destruction and as an artist whose palette is decay. The residual bones of those magical gardens which transformed this woodland hill into a spiritually ennobling retreat constantly shift and slip under the weight of collapsing trunks, the violations of undiscriminating roots, until the coup de grace of a landslide. Only the fir trees King planted soar defiantly, emerging out of the strangling lower vegetation like abandoned descendants still vainly signalling their presence. The spectral contours of Ashley Combe appear immune from final expungement, a melancholy waft of antiquity and nostalgia breeds authentic atmosphere, a persuasive poetic sentience, that miraculously circumvents linear time.
Will Stone is a writer, poet and translator of French, Franco-Belgian and German literature.
---
He has contributed reviews and essays on art and literature to The TLS, The London Magazine, RA Magazine, Poetry Review, Agenda, Apollo and The Spectator.
His most recent translated books are:
Poems to Night
- Rainer Maria Rilke (Pushkin Press 2020)
https://pushkinpress.com/7616-2/
Encounters and Destinies, A Farewell to Europe
- Stefan Zweig (Pushkin Press 2020)
Surrender to Night – Collected Poems of Georg Trakl
(Pushkin Press 2019)
Will's forthcoming books for Pushkin include a first English translation of
Nietzsche in Italy
by Guy de Pourtalès. His debut poetry collection ,
Glaciation
(Salt, 2007) won the international Glenn Dimplex Award for Poetry. A second collection,
Drawing in Ash
(Salt) followed in 2011. Shearsman Books subsequently produced new editions of both these collections, followed by a third,
The Sleepwalkers
, in 2016 and most recently in 2020 a fourth collection entitled
The Slowing Ride.